For the best selection, top-quality service, and world-class parts head over to Smith Haven Mitsubishi your Long Island Mitsubishi auto Dealer. Stop in and let us wow you with our massive selection of new and pre-owned Mitsubishis. Expect sticker shock in the best way possible with priced-to-move deals right from our Long Island showroom. 
A Professional Staff at Smith Haven Mitsubishi
Smith Haven Mitsubishi is a team of professionals. We have experts for every aspect of our Long Island Mitsubishi auto dealership. We have a professional sales team that operates in a no-pressure manner to help you find not only the car of your dreams but one you can afford. Check out our Car Finder Tool. 
Our credit and finance department works with people who have the best FICO scores and those who need credit repair. We understand and that is exactly why we go out of our way to put you in a brand new or pre-owned Mitsubishi.  Come on down and take a look at Smith Haven's huge new inventory of new 2016 and 2017 Mitsubishi vehicles. Our outstanding selection makes it your Long Island Mitsubishi auto dealer. Stop by and test drive a 2017 Mitsubishi Lancer ES Sedan today.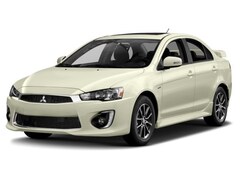 World-Class Service and Care for All Models of Mitsubishi
All of the Smith Haven Mitsubishi service crew are certified. We insist on the best because we know how much your Mitsubishi means to you. Our generous service hours are Monday-Saturday from 7:30 am until 5:30 pm. Expect courteous staff with a professional demeanor and the skills to keep your Mitsubishi serviced and running as new. 
The Smith Haven Parts team is an extension of our service department. Our professionals have accessories and parts for a wide range of Mitsubishi models and years. Together our Service and Parts Departments offer you the deep inside knowledge of car experts and the professionalism to make your visit exceed expectations. At Smith Haven Mitsubishi, it is the little things that are important and that is why we are the Long Island Mitsubishi auto deal of choice. Stop by today and test drive a new or used Mitsubishi.