NY Mitsubishi Lancer | Brentwood Car Dealer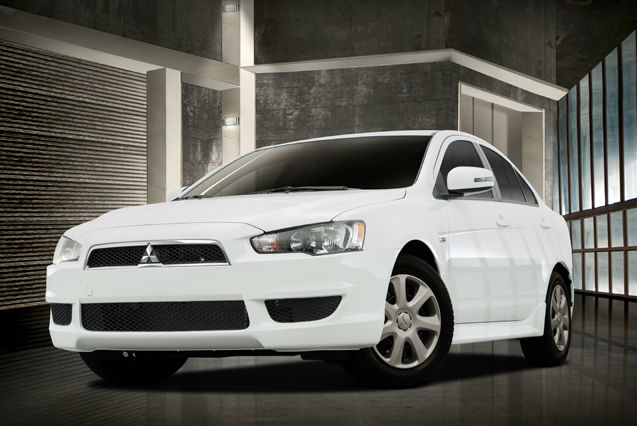 Are you looking for a sporty vehicle with enough room for family and friends? Look no further, the new 2015 NY Mitsubishi Lancer is back and better than ever. This compact sedan has been redesigned to give you a definite edge on the road.
The sleek and stylish Lancer sports smooth contours, a unique pointed nose, hood scoop, and a lifted rear spoiler that give the sedan racecar flair. Inside, the Lancer makes good use of 105.8 cubic square feet of space, providing you with five cushioned seats that are bathed in a soft cloth and accented by alloy trim, all arrange around a neat instrument panel. The Lancer scores high in looks and comfort, you're family will have no complaints, and the same can be said of the Lancers available accessories. Standard in the sedan are remote keyless power door locks, heated mirrors, odor-absorbing headliner, audio and cruise controls on a tilt-adjustable steering wheel, and a booming 4-speaker stereo system that outputs 140 watts.
The Lancer was built to effortlessly power you through the winding roads of New York while saving you money on gas. The sedan's 2.0L 4-cylinder produces 148 hp and 145 pound-feet of torque. Paired with the engine is a 5-speed manual CVT transmission that helps to get you an impressive 26 mpg city/34 mpg highway. In the city or on the wide open road, safety is priority. Standard in this Mitsubishi are safety features like engine immobilizer, traction and stability control, Accessory Rear Park Assist Sensors, and emergency braking assist.
If you're ready to own a car that is far from ordinary with a smart combination of style you want and mileage you need, pay us a visit at our Brentwood Mitsubishi dealer. We have a large selcetion of new and Medford preowned Mitsubishi vehicle avaiable.